Every time I think of Carbonara it takes me back about 9 years or so, to my last visit to my Italian friend Mario's house in Johannesburg.  His lovely wife had to go out so Mario was left in charge of the food .  He took this as the perfect opportunity to teach this Afrikaans boy the virtues of Spaghetti alla Carbonara.
First off he was very disappointed with the lack of authentic ingredients in South Africa.  You see the thing is, traditionally a proper Carbonara is made with Guanciale, which is an unsmoked bacon made from the cheeks of the pig.  It is a delicacy of central Italy.  At that stage my food vocabulary was very limited, and only really registered the "bacon" part.
Finding something like this in South Africa has proven to be very difficult.  Most people settle for Pancetta as an alternative, just like Mario had to settle for it on that glorious day. (I do have to state for the record that the man makes a MEAN Carbonara even if he is forced to use Pancetta).
Some time after that I befriended Google and with the help of my new friend I tracked down some more info on the mysterious ingredient that Mario was in such a state about.  I started looking for suppliers.  No luck, most people I asked didn't have a clue what I was talking about.  To be honest I gave up on the idea of ever tasting the stuff.
Fast forward to a couple of weeks ago.  I was busy chatting with some people on twitter about the upcoming SAB & Eat In Night Market.  Enter Richard "The Boss of Bacon" Bosman.
The man was offering free bacon to the first 5 folks who retweeted his message to spread the word  of his wares available at the market.  My mind went "Free bacon? YES PLEASE!" So I immediately did what I was asked.
Since the man looked like a master of his craft to me I thought "hey, what have I got to lose?" so I sent him the following message "I know this is probably a long shot, but do you make Guanciale, or can you point me in the direction of someone who does?"
I expected a "do I make WHAT?" kind of reply, like I got so many times before, but much to my delight, the reply was "I actually just made a batch some time ago, want some?"
Want some? WANT some???  No my good man I NEED SOME!!  I immediately messaged him saying yes, yes a thousand times yes, and enquired about the price.  He said it's not a big seller as not many people know what it is and only Real men knew what to do with it (I liked him already), but he'll bring me some to the market Free of Charge so that I can sample it and share it with you lot.  This all seemed to good to be true. Free Guanciale??? You gotta be kidding me!!
When I arrived at the market I went straight to his stall and announced "I'm here about the Guanciale".  Friendly greetings all round. After receiving the object of my obsession + the free bacon I was awarded for my good deeds (ok ok AND buying some other goodies that looked too good not to take home with me) I was in a sort of trance, just wishing away the time until I could cook the stuff…
Anywhoo, enough of this rant, let me show you what I did with it. Graham and Marc was the lucky diners this time (credit to Graham for the photography, and for Marc for kitchen assistance)  PS. They had it good hey, I even travelled to their house to make the stuff, private chef kinda luxury!
Now without further adieu, I give you the most authentic version of this classic dish I have made to date.
Authentic Spaghetti Alla Carbonara
You will need:
250gm Guanciale, cut into small strips (Pancetta can be used, but contact Richard about Guanciale, we need to get everyone using this stuff, it's amazing, seriously, do it! By the way, the man makes excellent Pancetta too, so you can't go wrong :) )
1 pack Spaghetti
about 1 and a half cups freshly grated hard Italian cheese (I used Grana Padana, but Parmesan or Pecorino can be used as substitutes)
6 eggs (3 whole and 3 yolks)
A dash of good quality olive oil
Freshly cracked black pepper
Here's what you gotta do:
First off, get a big pot of heavily salted water (it should taste like the sea) going on high heat.
Cut the Guanciale into thin strips so that it resembles "normal" bacon.  Then cut it crosswise again so you have tiny little strips.
Heat a pan up to medium heat, add a dash of olive oil and chuck in the little strips, shaking the pan every now and then to move things around.  Cooking the bacon on medium heat allows it to go very crispy without burning.
By now your water is hopefully boiling.   Drop in the pasta and keep an eye on it.  Do not overcook the pasta. As soon as you can bite through a strand and not feel your teeth cut through a hard white bit in the middle it is cooked.
For this recipe specifically though, your pasta needs to stay hot, as it needs to cook the eggs.  So do not remove it from the pot before you are ready with the rest.  Come on, get a move on!
Crack your eggs into a bowl, split half of them (only keeping the yolks) and whisk together.  Then add the cheese and whisk together to form a paste of sorts.  Add more cheese if you think the mixture is too "loose"  You will get a feel for this soon enough.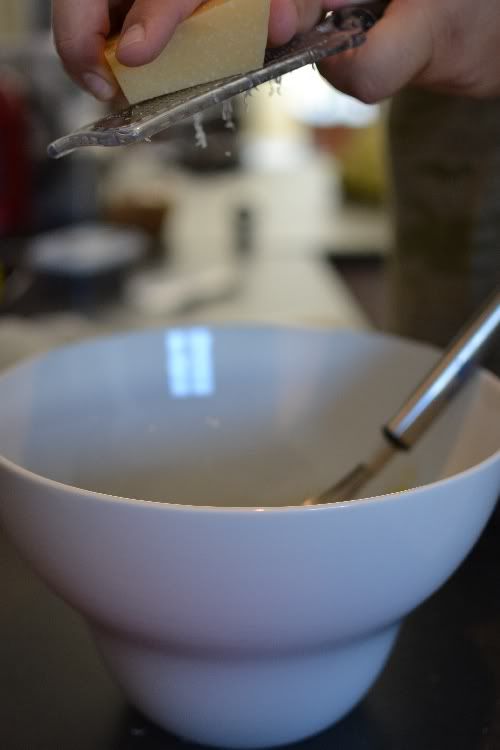 By now the Guanciale smell should have filled your kitchen and you cant wait to eat it.  It's ok, take one little piece and experience heaven.  It should be nice and crispy but not burnt. Drain off half of the oil in the pan, but leave some of the oil, it's full of bacon flavour and will help with the consistency of the "sauce".
OK now it's action time.  Pour some of the pasta water into a jug and set aside.  You can use this to smooth out the consistency of the sauce if you find it too sticky.
Next quickly strain the pasta and chuck it in the bowl with the egg and cheese mixture.  Toss the pasta a couple of times to start mixing the sauce in.  I find that kitchen tongs work great for this purpose.
Add the Guanciale.  I repeat, add some of the oil from the pan, it's full of flavour and now is not the time to think about your waist!
Add some cracked black pepper and mix the ingredients well using the kitchen tongs.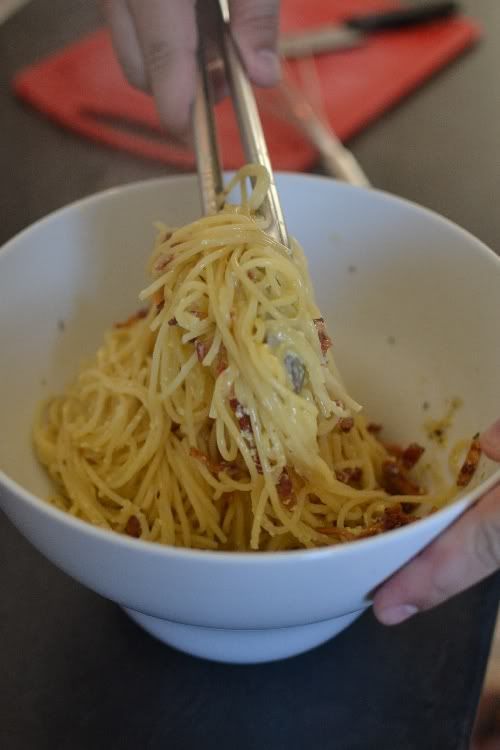 There you have it, a classic Italian dish.  Less is more really applies to this dish.  I wouldn't mess about with too many additions, to me this is close to perfection! Serve it with some fresh crusty bread.
Sidenote: Hardcore Italian purists claim the cheese has to be pecorino and not parmesan or grana padana.  The verdict is still out, I am yet to try it with pecorino.