Oxtail Potjie is a childhood favourite of mine and my dad is it's master.  I have modified his recipe ever so slightly, just so I could add my 2 cents worth in there hehehe.
In my not so humble opinion, to be able to pull off a decent Potjie, there is a few things you need to be able to do…
The Four Rules of Potjie:
Taste and adjust seasoning – If you are looking for the part of the recipe that specifies how much salt and pepper (in grams) you should add, you are not ready.
Hold your liquor well – Potjies can take a long time to cook, this one for instance goes about 5-6 hours.  The men I know will not be able to sit around a fire for 6 hours without having "a few drinks".  This is of course encouraged, but if you have a few too many and neglect to give your potjie the attention it deserves, you are not ready!
Know your fire -  You have to be able to judge how much wood / coal you would need to cook the Potjie. Having ot run to the shops to get more wood halfway through the Potjie is NOT a good sign.   You also need to be able to maintain consistent heat under the Potjie as required, if you are trying to do that with huge wood logs, you are quite probably not ready.
Know your ingredients – You need to know how long each of your ingredients needs to cook at what kind of heat to get your stamp of approval.  If you find yourself chucking in everything at the beginning and then just stirring the resulting mush around until the meat is tender enough, your are not ready (unless of course you like mush, in which case we will label you as weird and let you slide on this one)
Ok now that we have cleared that up, we can continue with the actual cooking!
You will need:
(I made a big pot of the stuff, you will need to chop and change the amounts accordingly, it does not need to be spot on.  This batch could have served 6 people that are big eaters)
1 cast iron Potjie of adequate size
1 big bunch of carrots, peeled and sliced into 2-3 cm chunks
8 medium potatoes, peeled and quartered
2.5 Kg's Oxtail pieces
Salt and pepper for seasoning
Lots of water
1 large onion, sliced
2 cups flour
1 sachet Knorr Thick Vegetable Soup
Let's get cracking!
First off season your oxtail pieces generously with salt and dust with the flour.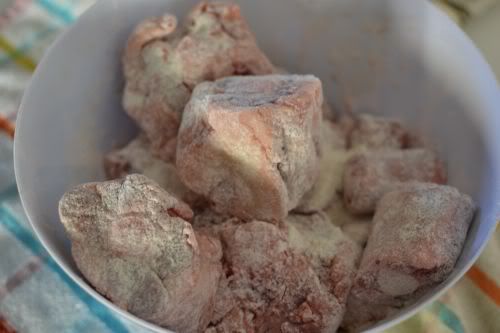 I made this Potjie at a friends house and when I arrived to assess the situation I realised that the wood might run out if we do all the cooking on the fire,  so I decided to do this first bit on the gas hob in the kitchen.
On medium high heat, brown the Oxtail pieces in some vegetable oil.  (I don't normally use vegetable oil much but I find it works best for Potjie)
When you have browned the meat sufficiently, it should look something like this.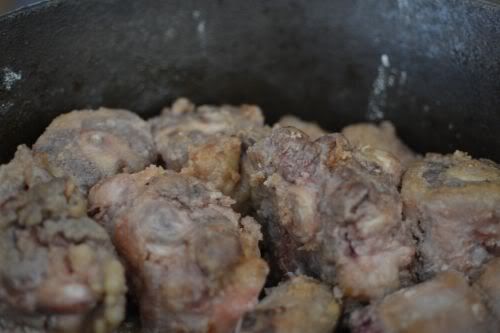 Add your onion slices.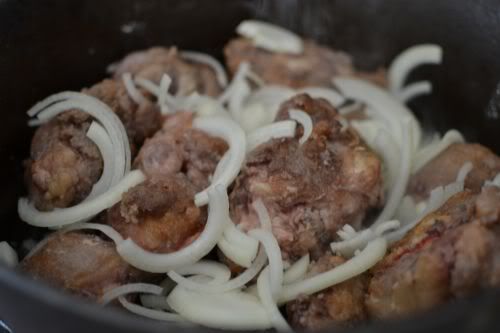 Cover with water and bring to the boil.
Once you reach a rolling boil, turn the heat down so it is still boiling, but at a much slower rate.  This step can take up to 4 hours,  you want to slow cook the meat till it is tender. As this happens the gelatin in the bones will come out to play and start forming a sticky sauce with the gravy already in the pot that a good oxtail is known for.  Do not rush this process by turning up the heat!  Let it cook slowly, check in on it every 30 minutes, give it a good stir and top up the water, you can keep it covered in water.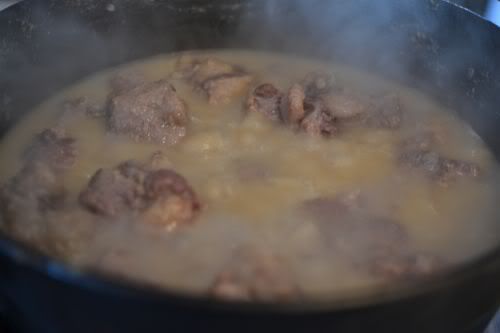 At this point we moved the Potjie out to its natural habitat, the fireplace.
Once I gauged the meat as being 45 minutes from perfect,  I added the veggies.  I specifically keep the veggies to a minimum.  To me Oxtail is special and it's taste should not be over-run by too many different kinds of veggies.  Apply the KISS principle, Keep It Simple Stupid!
Let that cook until the veggies are ready.  You do not want it to turn to mush, so check regularly.  When you are almost happy with the veggies, empty the contents of the soup sachet into a little bowl, add boiling water and stir into a paste, then add to the pot and stir well.
After the soup has cooked through (about 10 minutes) you can adjust the seasoning and you are done.  Serve on a bed of white rice with some crusty bread (Potbrood is best) on the side.  Go on and dip the bread in the sauce, yes it is probably not all that healthy, but the smile on your face will be worth it!