I was fortunate enough to be invited to the launch of the 2011 Winter Menu at What's On Eatery.
I must admit I really dig this place! Let me take you through my evening!
As I entered I received a warm welcome from the host Trevor Jordaan, who promptly popped a cocktail in my hands, NICE!  I had a chat with one of the other guests over the virtues of twitter and the like.
I really dig what they have done with the place, floorspace wise it is rather small, but they have utilised the space ingeniously.  Downstairs is a relaxed yet modern looking deli / lunch area which according to Trevor has also been used as a dancefloor by some tannies in the mood for some boogie!
After a couple of minutes we were graciously invited to take our seats upstairs.
Upstairs you will find the more formal (but still relaxed) dining room.  The room is beautifully decorated yet not overly fancy (I don't enjoy places where I feel that the largest part of my bill is going towards the pretty things on the wall).  As with downstairs, it is a smallish area, but I think it adds a feel of exclusivity, it is nice and cosy, the ambiance is really cool.
I was seated with the gents behind the  www.mrcapetown.co.za blog and we immediately started chatting up a storm.  The menu for the launch was printed on the back of this welcome note, a nice touch I thought.
The menu is easy to navigate, not TOO many options to make it hard to choose, but also enough variety to suit everyone's palate.
Starters and salads are priced at R39.00, mains at R98.00 and deserts at R40.00 a pop.  A two course special is available at R125.00 and three courses will set you back R150.00.  I believe this to be great value for money after eating my way through 3 brilliant courses.
For starters I had the Grilled Brown Mushroom with basil pesto & mozzarella, wild rocket and black truffle oil (I forgot to take a pic, but the presentation was beautiful!).  I thought it to be just slightly under seasoned, but I am a bit of a salt addict so I may be overreacting here.  I did enjoy the texture and overall flavour.
Next we received a Mixed Berry sorbet, which was delicious.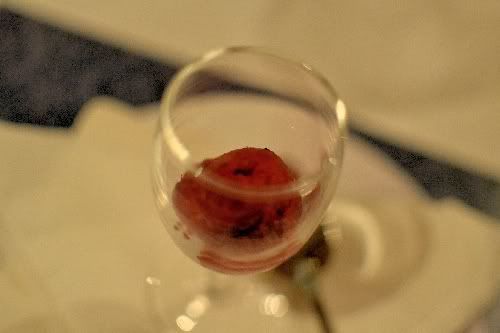 For mains I had the Slow Braised Karoo Lamb Shank with gratin potatoes served with a mint & port jus.  The lamb was delicious and properly cooked, soft and tender.  The dish was full of flavour, and a joy to eat.  The portion size was perfect, this is not one of those fancy smancy places where you have to stop for take-out on the way home because you are still hungry.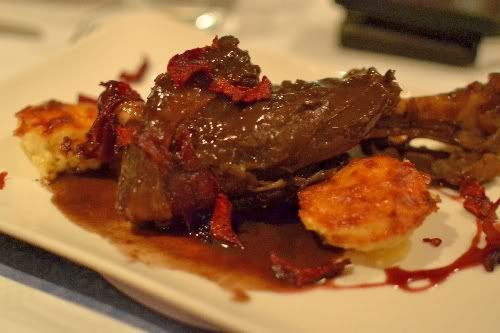 Dylan had the Duck La Orange.  Judging by the look on his face and the sounds he was making I would say that the duck is a winner!
Calvin had the Beef Fillet with pommes puree, black truffle & herb butter and red wine jus.  Something I picked up when he ordered this was that instead of asking how he'd like the steak done the waiter informed him that the chef will be cooking them medium rare tonight.  He did state that in a sort of questioning tone leaving the opportunity for the diner to object (which I am glad he did not). I quite like that, people that order overcooked steak should be beaten with a large stick, extra points to the chef for sticking to his guns!  The steak did look amazing and although I cannot comment on the taste, Calvin was very happy with it!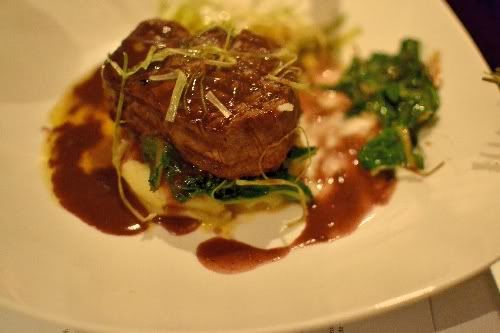 I was not prepared for what happened next.  Judging by the starter and mains, I was expecting a pretty decent desert, but the Dark Chocolate & hazelnut Fondant with Amarula ice cream and butterscotch sauce simply blew me away, it was out of this world!  I would go back and easily just order 4 of these babies!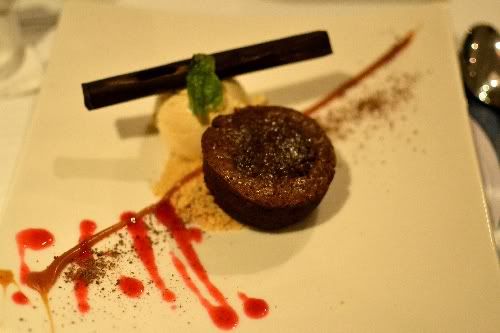 Judging by the near orgasmic noises I heard coming from Dylan and Calvin, I came to the conclusion that their Malva Pudding with Cinnamon Cream filled butterscotch cigar was also a hit.  They generously gave me a taste of the cigar and I understood what they were on about!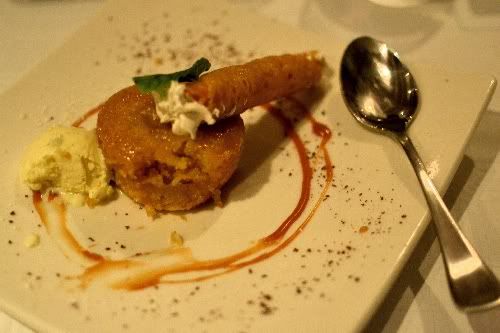 Overall I think this place is a gem.  The food is great, and in my view great value for money.  Fine food at great prices.  The service is top class, I was very impressed with the waiters attitude, skill and knowledge.  I got the feeling that the service was on par with restaurants much more expensive than this.
You can get more detail on http://www.whatsoneatery.co.za/ Go check them out, I have a feeling you won't be disappointed!
*EDIT* In the interest of transparency, we did not pay for our meals as it was a launch, we only paid for our drinks.