I've always had a thing for Le Creuset cookware, even before actually owning a piece.  Their products ooze quality and I think their marketing is top notch.
As some of you may recall I recently received a Le Creuset 30cm Buffet Casserole as a birthday present, and even though I may have had some crazy expectations of it due to all the hype out there, I am happy to report that I am 100% overjoyed with it and I'll happily give it my seal of approval.
A few weeks ago I got an invite from Gillian MacGregor at Le Creuset South Africa to a Food Bloggers evening at Silwood School of Cookery, the oldest cookery school in South Africa.  Needless to say I RSVP'd within 1.34 seconds with something along the lines of "Hell Yea I'll be there!".  Ok I may have used some more formal language but that's what I meant to say!
I had a look at Silwood's website and they certainly know their stuff.  The school was founded in 1964.  Their graduates are working for some of the top chefs in the world like Heston Blumenthal, Jamie Oliver, Gordon Ramsay and Thomas Keller!  Maybe I'm being weird but i certainly felt a sense of history and achievement when I entered the premises.
On arrival we were greeted by Gill who promptly offered us drinks, and the Silwood staff who made us Chef's hats.  Due to my ridiculously large noggin I had to go without one as there was no way one of those dainty things were going to wrap around this amount of intelligence!
During the initial meet and greet stuff I managed to snap a pic of the kitchen. I call it, The Calm Before the Storm.
Yes yes those bright orange bags of awesome was our goodie bags.  This consisted of  2 large ramekins in Dune colour, a 19cm rectangular stoneware dish in Caribbean Blue and 1 Small Soup Bowl in Cobalt Blue.  A very generous gift indeed.
After we chose our stations we got instructed to get the ramekins out as we are going to use them and to stash the rest under our stations as we are about to start.  Here is a pic of Matt Allison, author of www.imnojamieoliver.com getting ready for action.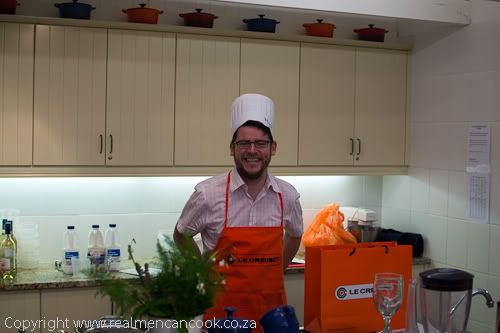 My cooking partner for the evening was Sam Linsel, author of www.drizzleanddip.com.  I do believe we make a mean cooking team, especially when it comes to meringue whisking!
Our instructor for the evening was a gent named Gary, and he really held his cool with the bunch of misfits that was handed to him, I applaud you sir! Hehehe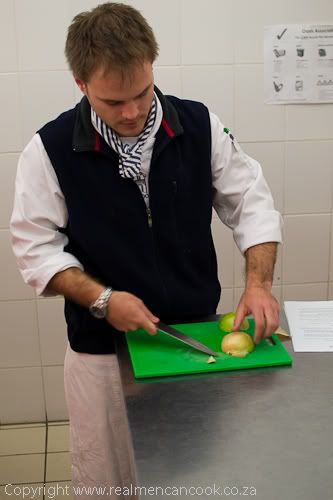 Below you can cast your eyes on a very rare occurrence.  A group of woman being quiet and listening to something a man has to say…  Have you ever?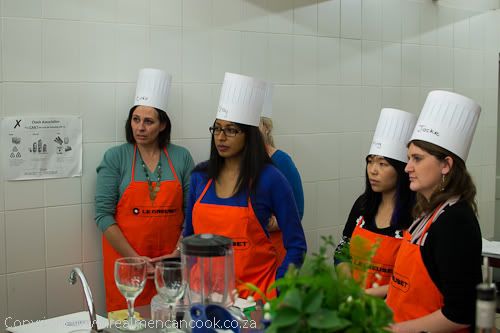 And here we have the lovely Ishay, author of www.foodandthefabulous.com/ showing off her whisking skills.
Ming-Cheau Lin, author of www.butterfingers.co.za keeping a close eye on what Gary is putting into her custard.
On the menu for the evening was :
Roasted Red Pepper and Tomato Soup
Mushroom stuffed Chicken Breast with Tarragon sauce
Bread & Butter Cappuccinos
First up we cut and cleaned our peppers and popped them in the oven with the tomatoes to roast, they came out looking like this.
We then assembled our Bread and Butter puddings and pre baked them.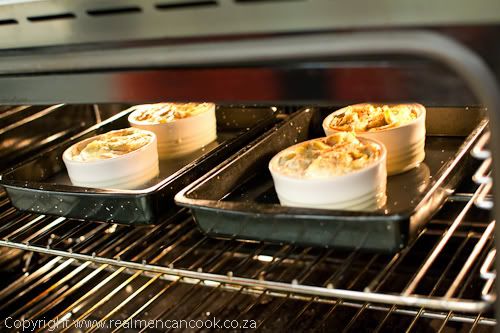 Next we started a soup base with onions, garlic and butter and made a roux (A cooked mixture of flour and some form of fat, in this case butter).
We then popped our roasted reds into this mix and let it simmer for a while.
Next up was the chicken breast, we needed to flatten them so we could stuff and roll them up.  This is done by placing the breast between two sheets of plastic wrapping and basically "moering" it with the bottom of a heavy pan.
I personally feel Ishay went a bit overboard but wouldn't  dare tell her that while she still had the pan in her hands! Dangerous stuff!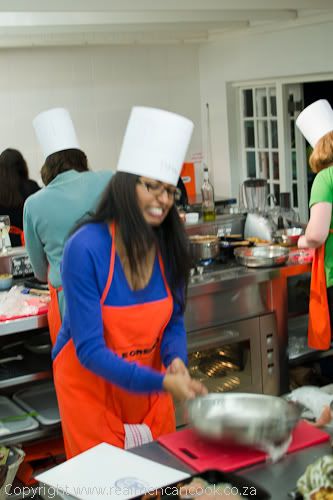 We seasoned the chicken meat with salt and stuffed it with the onion, garlic and mushroom mix we prepared earlier (sorry no pics).
In between that we had to take turns with the blenders, liquidising our soups.
We rolled the chicken breasts up in cling wrap and poached them for 8-10 minutes in gently simmering water.
I don't normally like tomato soup, but this one was a winner I tell you, I'm sure I'll be making it again, probably adding my own little twist.
After a hell of a whisking session Sam and myself manage to whip up gorgeously smooth and creamy meringue, this was to become the "froth" of the cappuccino.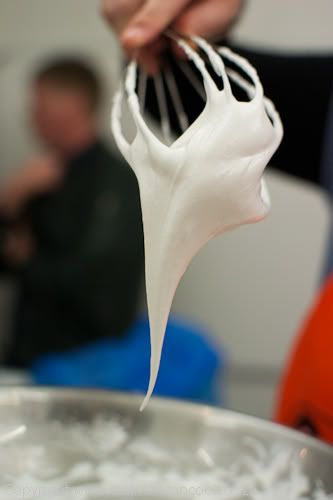 We topped the Bread and Butter puddings with the meringue and baked it till brown, this pudding was sheer awesomeness I tell you, will definitely be making it again soon!
We all had a ball of a time and lots of laughs.  I would like to thank Le Creuset South Africa, Silwood Cookery School and my fellow food bloggers for making this a highly enjoyable evening.