It's been a while since I managed to cook something semi-decent. My life has been a tad crazy with the business trip to Sweden and my 30th birthday shortly thereafter. I managed to survive both though, and I am now officially a grown-up, I think. Bah, I'll always be a kid at heart.
My birthday gifts included decent whiskey (score), a whole stack of recipe books (yay), and my family got me a Le Creuset 30cm Buffet Casserole (Uber yay) You can expect to see it featured in pretty much all recipes from here on out, it is that awesome! So versatile it's scary.
In other news I have set a personal goal to lose at LEAST 20kg's, and am starting the journey in the beginning of August. I'm not one to back down once a goal has been set, so hang on to your spatulas, you might actually even see some healthy recipes on here very soon!
Right enough chit-chat, on to the recipe. Well this one came about purely out of my need to try out my new Buffet Casserole. It was screaming at me.
I had some hours to spare last night, and all I could think of was juicy chicken pieces in some sort of sauce. The initial plan was to do a casserole version of Beer Chicken, and I will still do that soon enough, but once I got a whiff of the chicken browning in the pan with NoMu's Italian Rub I could not dare to mess with that flavour by adding beer.
Yes you heard me, I think I found the one instance in life where beer would not make things better. I did manage to work the beer into the brussels sprouts though!
Ok let's get to it! You will need the following:
Ingredients:
1 red onion, sliced thin
4 cloves garlic, chopped
1 pack chicken pieces, I used drumsticks and thighs
1/3  can (or refill) of NoMu's Italian Rub
olive oil
half a punnet of brown mushrooms, chopped
250ml of fresh cream
a few sprigs of rosemary and some parsle,y rougly chopped
1 pack of brussels sprouts
1 can of beer, any beer will do, I used Amstel
Mashed Potatoes to serve it with.
Method:
Start preheating your oven to 180 degrees Celsius.
When cooking chicken, I used to just sprinkle spices over it like I do with other meats.  This results in gloriously flavoursome skin for sure, but the meat underneath can be very bland as the spice does not penetrate.  To avoid this issue, loosen the skin from the meat with your fingers so you can get right in there, believe me it is worth the extra trouble.
I used to be a big fan of NoMu's Poultry Rub on chicken.  Yesterday I could not find any in the store and settled on the Italian Rub instead, great success! This stuff is even more awesome! Give it a try, I doubt you'll be disappointed.
To use, chuck some of it in a bowl and add some olive oil to form a paste, and get out your pastry brush or tackle it with the fingers, whichever tickles your fancy.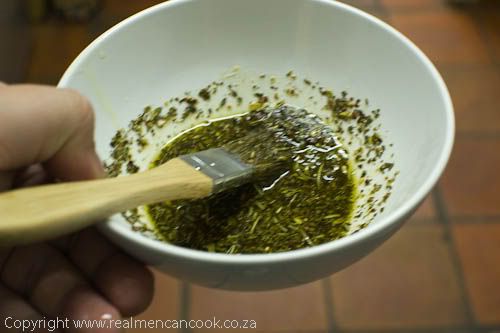 Paint those pieces pretty, get the paste underneath the skin in every nook and cranny you can find, also give it a good splash on top of the skin.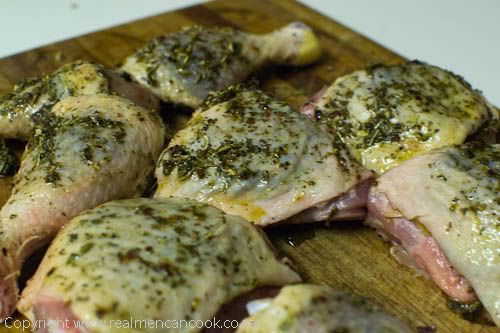 In a casserole (yea ok ok I know yours probably won't be as awesome as mine hehehe but it will still work don't worry ) fry up your onions and garlic in some olive oil and once soft remove from the casserole and set aside for now.
Brown the chicken pieces meat side down first then turn them over and do the other side.  By now you should be experiencing a tingling sensation in your nose that says "Ok, this is gonna be a good one!"
When both sides have been browned, add about a cup of water to deglaze the pan, put back the onions and garlic, add your chopped mushrooms on top and sprinkle with some salt.
Once the water is boiling, pop the lid on your casserole and put it in the oven for about 20 minutes.
As a side dish of sorts I covered the Brussels sprouts in beer, seasoned with salt and boiled them for about 15 to 20 minutes depending on how crunchy you want them.
20 minutes after you put the casserole in the oven, take it out, move the pieces around a little to prevent them from sticking and add the cream, stirring it around gently.  Pop that back in the over for another 10 to 15 minutes while you clean up the mess you just made in the kitchen (or drink the rest of the beer while getting a friend to do it, whichever you can pull off)
Serve it on some mashed potatoes and finish off with some roughly chopped fresh herbs.  I was really surprised at the level of flavour from what is essentially a very simple dish, this one is a winner I tell you!
There you go, tuck in!