As some of you may be aware, I am starting the Weight Watchers program this Thursday.
I have set a personal goal to lose at least 20 kilos.  I must admit this has made me rather panicky the last few days.  I am determined to stick with it and I will, it's just starting to dawn on me that my diet will basically be completely different to what it is now.  No more spades of butter, cheese and sugar.  In the end just like everything else it is just something to get used to, bad habits take a bit of effort to break.
I have decided to make this a public challenge, you can follow my progress on my facebook page here Drop I'll give you 20 Be sure to read the Info -> Biography section.
I did feel like I need to pig out one final time before "doomsday" and as luck would have it Food24 is running a Burger Competition!  I thought about going with all sorts of weird combinations but in the end I stuck with the basics and put down the following three rules.
Make 'em BIG
Make 'em JUICY
Make 'em AWESOME
So without any further adieu, I give you the Big Boy Burger!
Ingredients (makes 8 rather large burgers)
For the patties
1 kg beef mince
300 gm pork mince
250 gm very finely chopped onion
1 cup choppped parsley
2 tblsp sea salt
pepper to taste
3 eggs
2 cups breadcrumbs
a cup of your favourite basting sauce
The rest
8 breadrolls
2 onions, thinly sliced, fried with some balsamic and sugar until caramalised
1 block of  Emmentaler cheese, thinly sliced
3 tomatoes, sliced
1 bag of Cos Lettuce
1 jar of pickled cucumbers (gerkins)
Method
Combine the meat, onion and parsley in a mixing bowl and mix together well. Using your hands is best, t is a messy afair but get stuck in!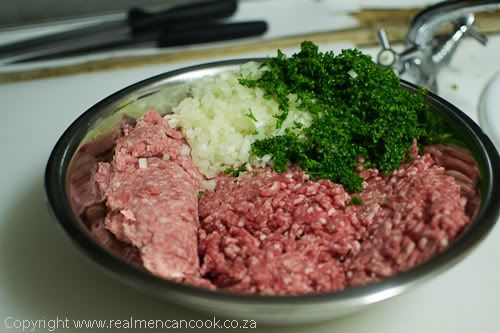 One properly mixed, spread the mix out in the bowl so you can get salt and pepper spread out evenly.  Don't add you salt in one heap as it sticks to the meat and is difficult to spread out, so rather spread it evenly from the start.  Lightly beat the eggs and chuck it in there.
Mix that through so the egg is incorporated, then add the breadcrumbs and mix again!
Next you need to decide how big you want your burgers.  I went with "As big as I can get em boss!".
I use a pattie press machine thingy that I bought at Freddy Hirsch.  They are in the Butchery Supplies business, I have bought a couple of neat things from them over the years.
I made the burgers as big as my pattie press allowed, a wopping 210gms.  I prefer using the press as the patties end up a bit sturdier and do not fall apart so easily.  Once you have your portion size sorted, roll the rest of the mixture into meatballs of that size.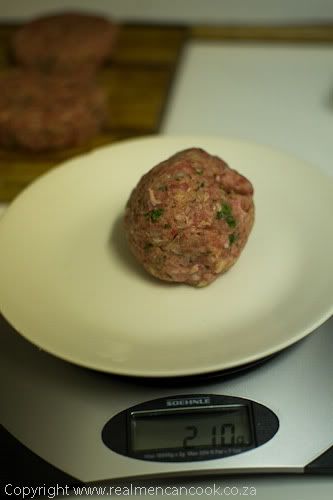 Here is a pic of my pattie press thingy, on the left is the press itself and on the right is a stack of the plastic discs that go on the top and bottom of each pattie to make them easier to handle and freeze without them sticking to each other.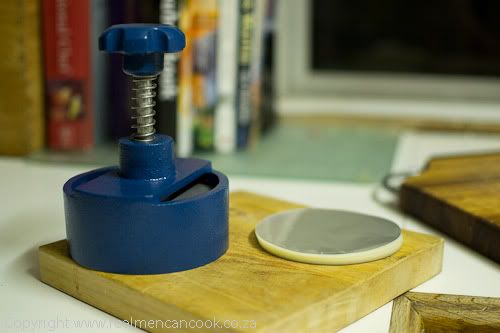 Place a meatball between two of the plastic discs and then bring down the press over it.  Make sure the edges of the press do not lift up from the work surface and press down on the handle.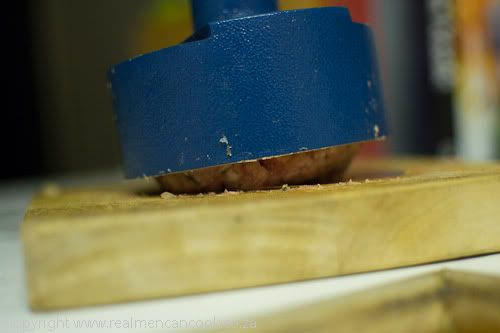 Lift up the press, the pattie will most probably still be stuck inside.  No worries, just hold the press in one hand and give the handle a quick whack with the other and it will pop right out.  Take a look at this beauty, thicker than a pack of smokes I tell ya!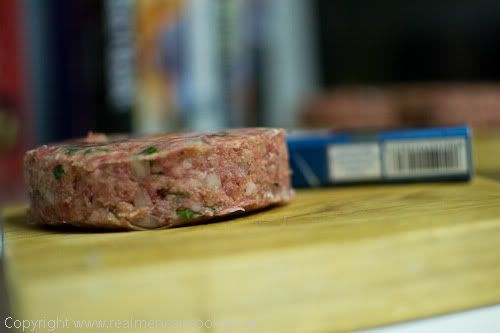 Repeat this process and lay your pattied out on a cutting board.  When you are done, put them in the fridge for a while to set.
Phew that was quite a bit of work, so let's go chill for a bit and have a drink by the fire.
Right, back inside with you! Let's get the final prepwork done so we can braai these babies.
I like to toast the rolls in the over to crisp them up a bit, otherwise they might lap up too much of the juices and become soggy.  I just cut them upen and pop them under the grill for a while until they are lightly brown.
Slice the tomatoes (always sprinkle tomatoes with a bit of salt, it brings out their sweetness), slice the cheese and wash the leaves.
That's it, quick hey! Ok lets get back outside and braai these masterpieces over a medium high heat.
About 4 mins before they reach your desired level of "doneness", give them a dash of basting sauce and spread with a brush.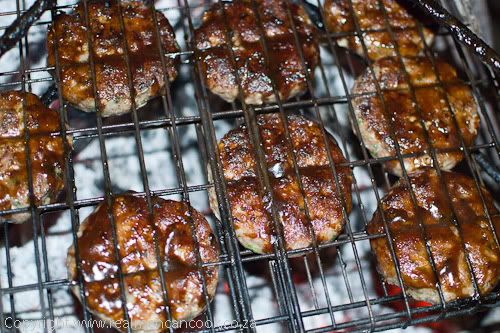 There we have em, beautiful man sized burgers on the braai!
Assemble them as you wish and good luck, these things are HUGE!
There is no civilised way of eating a burger of this magnitude, just grab it with both hands and start stuffing your face.
You may want to look up every now and then, grab a breath of air and look at the smiles on your guests' faces :)