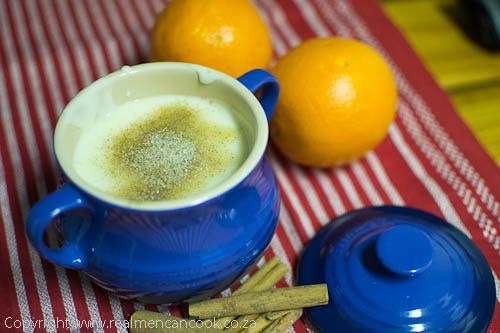 The mere thought of "Melkkos" takes me way back.  Back to a rainy winters night, me barely tall enough to see the top of the stove and my dear Mom standing there stirring the pot religiously.  I can only imagine that "IS IT DONE YET?" must have been written all over my face as the smell that was coming from that pot was nothing short of  heaven.  To say I loved the stuff would be an understatement of note.
"Melkkos", which directly translates to Milkfood, is a South African classic and more particularly an Afrikaans tradition of sorts.  On a cold and rainy winters day my tastebuds automatically send signals to my brain that causes "Melkkos" and "Pannekoek" to occupy my mind all day.
There are many variations of the recipe, and two main variations of the dish as far as I am aware. "Melkkos" is the one I grew up with and will be showing you today. It is made by rubbing butter into flour which then gets cooked in milk.  It produces a smooth porridge of sorts, with a few lumps here and there.
"Melksnysels" is the other variation I managed to track down.  I have never cooked it or eaten it though, my guess is that it is a regional thing.  It is made by making a dough out of flour, egg and a little milk which then gets rolled flat and cut into strips (similar to making pasta by hand), which in turn gets cooked in milk.
A couple of us food bloggers were having a chat on Twitter a while back about traditional foods and I mentioned to my friend Colleen Grove over at Browniegirl Blog that my Mom used to infuse the milk with dried orange peel when making "melkkos".  We soon got flooded with messages from our followers asking for recipes as they all remembered it from childhood but had no clue how to make it. Colleen and I decided then an there to do a double post about the wonders of a steaming bowl of "Melkkos".
Here is a link to Colleen's post,  lets get on with mine!
Ingredients: (Serves 3, maybe 4)
6 cups (1.5 litres) full cream milk
half a cup of sugar
1 and a half cup white bread flour
70 grams butter (Mom's recipe said 2 tablespoons, I modified slightly)
a pinch of salt
Zest of one orange (Mom used to use dried orange peel to infuse the milk with, but I didn't have any on hand so I improvised and it worked great)
a cinnamon stick
Method
Add the milk to a pot (using this ancient one that I "borrowed" from my childhood home when I left for college adds to the taste I am sure of it) add your cinnamon stick and bring that up to a medium high heat, do not let the milk boil.
While that is heating up, add the flour and a pinch of salt to a mixing bowl.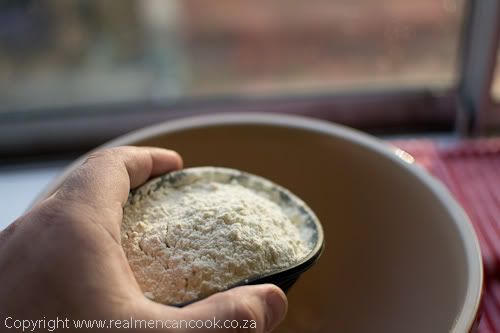 Then pop in the butter and start rubbing it into the flour with your hands.
Basically you just flatten the butter and keep coating the wet bits with flour until all the butter has been soaked up by the flour.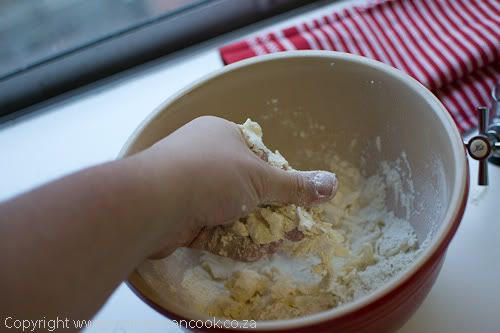 When it is ready you will see it look like yellow crumbs of varying sizes.
Add your sugar and stir it in with a wooden spoon.  Again, using this ancient spoon with the one edge chipped off just adds to the awesomeness.
By this time your milk should be heated up, turn the heat down to medium and add the flour mixture to the pot.  Keep stirring as this mix could easily burn due to the sugar content.  Caylee from The Love Bites Blog can tell you all about burnt sugar when making "Melkkos".
Let the heat at a light simmer and remember to keep stirring.  There is a camp that love the taste of a "slightly" burnt pot of "Melkkos", but let's not go there right now, you can experiment in your own time! At first it will still be very runny, but as the flour cooks the mixture will thicken, I'd say the process takes about 15 to 20 minutes.  After the first 10 minutes add your orange zest and get back a stirring.
You will have to adjust the mix to your liking though, add a bit more flour and butter if you would like it to be less runny. There you have it, serve with a bit of cinnamon sugar and sit back and feel the winter blues fade away.