I recently came across this post on fellow food bloggers Ishay's site.  It basically explains the concept behind WeFeedBack and talks about a dinner they held in aid of the charity.
The idea is to have a great meal and am awesome time while doing your bit for charity.
The crux of the matter is that for the same price you normally pay for a meal, you can feed a large number of underprivileged children, please read more about it on the link above.
It is also important for us to raise awareness of the charity on the various social networks, but we'll get to that.
Ishay and a number of other food bloggers are planning on hosting dinners through August to try and raise awareness of this awesome charity, I think it is an amazing movement and decided to join them.
I am putting up my skills as Braai Master and general Merchant of Good Times.
I have been known to braai a mean steak, so my plan is as follows.  On Saturday 27th of August I am converting my house into a "Steakhouse", and you are lucky enough to be receiving an invite!!
There will be three main sittings:
5pm – 2 seats left, book NOW!
7pm – Fully Booked
9pm – Fully Booked
What you get:
matured sirloin steak braaied to perfection by yours truly
a generous helping of crispy potato chips
all smothered in delicious mushroom sauce
a chance to hang out with fellow foodies and other awesome people
all that goodness in your belly, and a warm and fuzzy feeling in your heart knowing you helped out big time.
**Bring your own drinks if you are not a wine drinker please!
Price is R150 a head, R50 of which will aim to cover the majority of my costs and R100 will be going to charity. We will all put our money in a box on arrival and at the end of the night I will make the donation (yes there will be witnesses) to WeFeedBack.
My house is in Durbanville, address to follow on booking.
Obviously seats are limited, so book yours now by emailing me on info@realmencancook.co.za
Cheers!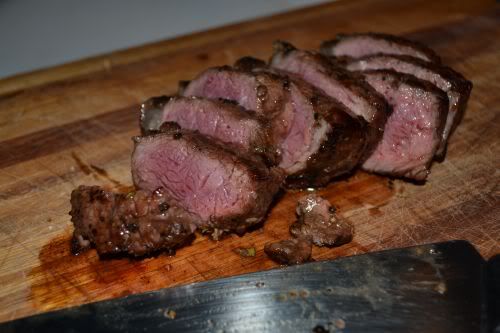 SPONSORS
This just in, some sponsors have come on board and will be making the evening even more awesome!
Hands On Wine & The Parlotones have given us a case of wine to raffle off on the evening.
The case consists of 6 bottles in total!
One bottle in the case will be signed by all four members of the band! So bring some extra money for raffle tickets you hear!
The awesome people at NoMu have come on board as a sponsor and have donated the following goodies
1 kg of their awesome Coffee Rub for the steaks!
9 of their amazing Gift Boxes for lucky draws and raffles!
The amazing folks at Le Creuset SA generously donated a 30CM Round Skillet that I will be raffling off!
Last but most definitely not least, BIG thanks to Andre Pentz of Adamsrib and the generous folks of Rib Shack Red who joins us as official  wine sponsor for the event.
I seriously dig this line from the promo pack I received
"Rib Shack Red is a wine made for those who like their wine the way they like their meat: big, red and juicy. From the moment the best red grapes are picked to the first indulgent sip"
Big, red and juicy… Sounds like the perfect match to my steaks!
As an added bonus, Andre Pentz and the folks at Rib Shack Red is also giving us a lekker Barrel Braai to raffle off on the evening!
I suggest you all bring plenty of extra cash for raffle tickets as the prizes on offer are nothing short of amazing!!
Also a big thanks goes out to Durbanville Party Hire for the discounted rate on the tables, cutlery, crockery etc.!
A big Thank You! goes out to all our sponsors!
If you would like to sponsor the event or make any donation please email me on info@realmencancook.co.za
UPDATE
The raffle winners are as follows:
NoMu gift boxes
Caylee Grey
Caylee Grey (yes she bought loads of tickets)
Stephanie
Rib Shack Red Barrel Braai
The Parlotones Wine
Le Creuset Pan
Caylee Grey (again, this chick bought load of tickets)
Thanks so much to everyone for the support
We managed to raise R5000.00 for the WeFeedBack project.  This equates to 2752 children that we managed to feed while having an amazing time.  I encourage you to do the same, go to WeFeedBack and do what you can!