When it comes to comfort food, roast chicken has to be way up there with the greats.  Deep layers of roasted flavour, crispy skin and succulent chicken, what's not to like?
I suppose the secret to any roast is timing.  Undercooking the meat is never a good idea (raw chicken can be dangerous), while overcooking willl cause the meat to go dry and tasteless.  If you want to get it spot on, you may want to invest in a meat thermometer that will tell you exactly how your bird is doing.  Alternatively you can of course just "wing it".
Lemon & Herb is one of the classic roast chicken flavours and I'm sure there are thousands of recipes for it out there.   Here is my take on it, let me know what you think!
Ingredients
1 Free range chicken (the bigger the bird, the longer it will need to cook)
2 lemons
1 handful of thyme
1 handful of parsley
6 cloves garlic
+- 400 grams of baby potatoes
+- 400 grams of young carrots
1 medium onion
a dash of olive oil
2 teaspoons dried mustard seeds
1 teaspoon paprika
1 tablespoon sea salt
500 ml chicken stock
Method
Preheat your oven to 180 Degrees Celsius

Using a zester or fine grater, get the zest of 2 lemons in a large mixing bowl. Add the salt and paprika while you are at it.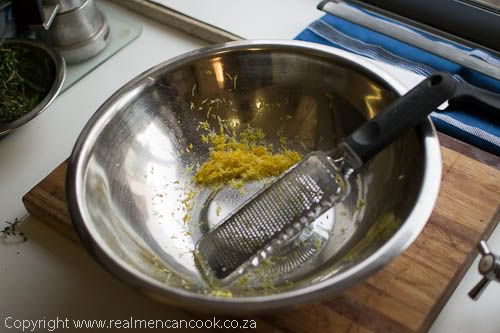 Peel the garlic cloves, dice four of them and chuck em in the mixing bowl.  Leave two cloves whole to use as stuffing.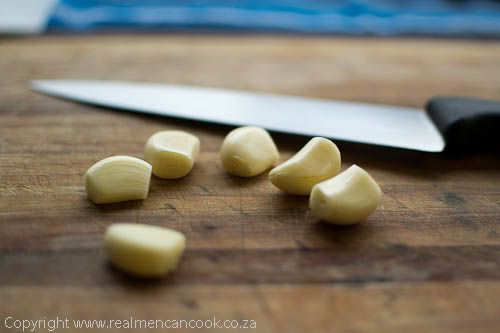 Finely chop the thyme and parsley and add it to the mixing bowl as well.  Leave a few sprigs unchopped for stuffing and set aside a little bit of the chopped herbs for garnish.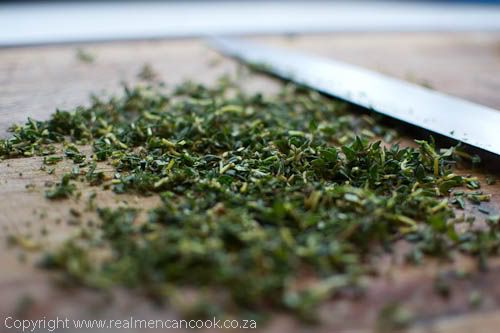 I used my coffee grinder to grind up the mustard seeds, but a mortar and pestle should work great too.
You should now have the following in your mixing bowl.  Salt, paprika, parsley, ground mustard seeds, lemon zest, thyme and garlic.
Add a dash of olive oil and work the ingredients to a rough paste with a spatula.
It's time to get your hands dirty! Place your chicken in the mixing bowl and start working the rub into it.  Make sure you rub it inside and out and get it into every nook and cranny.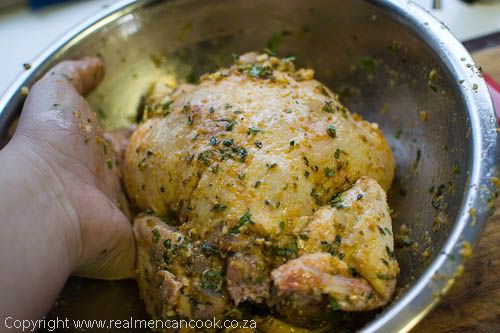 Roughly chop your carrots and onion and chuck em in the bottom of a casserole dish.  Add the baby potatoes and chicken stock and place the chicken on top of this veggie bed.  Cut one of the lemons in half and place the lemon, whole garlic cloves and a remaining sprigs of herbs inside the cavity of the chicken.
Then it's off to the oven and all you can do is wait.  I have read up about cooking times on the interweb, and it looks as though the general rule is 20 minutes for every 500 grams of chicken, plus an added 20 minutes for good measure.  I like to baste the chicken with some of the juices from the bottom of the pan every 20 minutes or so.
If you have a thermometer, chicken is cooked when it reaches around 75 degrees celsius, measured at the thickest part.  You can also check by inserting a sharp knife into the breast, if the juices run clear your chicken is ready.
Remember to let her rest for about 15 to 20 minutes before carving, it allows the juices inside the meat to redistribute and will result in a much juicier bird.  As an added bonus, make some gravy with the juices left in the casserole.  It's magic stuff.
So what do you think, ain't my bird a looker?