Few things make me as happy as a great tasting brunch.  Not so early in the morning that it finds my tastebuds half asleep, and not so late that it gets in the way of one of my second favourite things, which would be lunch of course!
I've recently been introduced to two great ingredients, first up being Asparagus.  I used to avoid it in the shopping isles, because a) It is usually overly expensive and b) I've never tasted it before so I had no idea if it would be worth the cost.  Crappy reasons I know but hey it's the truth.
Lucky for me I recently invited two friends over for a braai and they brought some with them that we braaied on the grill, and I LOVED it.  Also, asparagus is now in season in South Africa so the price has come down considerably.  Needless to say I am now easting it by the bucketload!
Second ingredient I discovered was cold smoked Haddock that I bought from Julie Carter at Ocean Jewels Fish. As I have mentioned in a previous recipe, Julie supplies the people of Cape Town with top quality, fresh, sustainable fish and delivers to your door.  She is a SASSI participant so you know that sustainability if of the utmost importance to her.  You will also find her at the Neighbourgoods market on Saturdays, or Starlings Cafe on Wednesdays.
This isn't Haddock as you know it.  I grew up with Haddock being the bright orange piece of fairly dried out fish.  It was normally dyed with who knows what to achieve that colour.  The fish was usually quite dry and the flavour was a bit overpowering, not something I'd eat often.
Julie uses a process called "Cold Smoking" which means you smoke the fish without applying heat to it so it doesn't cook and instead just takes on the gorgeous smokey flavour. No artificial dyes of any sort is applied. Julie explained that she, like any other South African Haddock producer,  uses Hake instead of Haddock as they are very closely related and we do not find the fish known as Haddock in these waters.  I doubt there'd be any difference in taste though.
Julie suggested that her Haddock would be a great replacement for bacon at breakfast for those (like me) that are trying to cut down on the fat.  I decided to take her up on that and I was most pleasantly surpised…
Ingredients:
1 large free range egg, at room temperature
a good dash of vinegar
a bunch of asparagus
2 slices of brown bread
a handful of pea shoots
a pinch or two of onion sprouts
a good dash of olive oil
salt and pepper
paprika
Method:
Cut off the crusts of the bread and toast it under the grill element in the oven and set aside.
To prepare the asparagus, you need to break off the dry, woody bits at the bottom.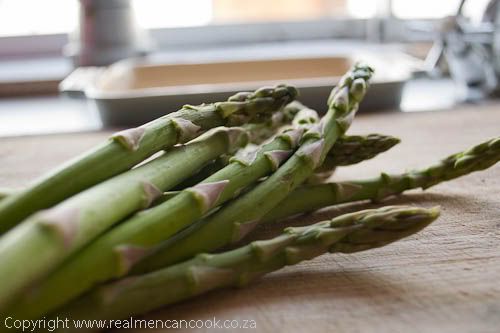 If you bend the bottom tips with your hands it will snap at the correct length all by itself, clever hey?  Do this just before you are about to cook them as they dry out quickly.
Drizzle some olive oil over the asparagus and season with sea salt and black pepper.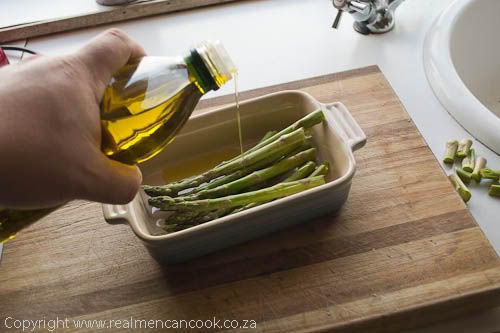 Pat the fish dry with some kitchen towel and season with a teeny bit of salt, some cracked black pepper and a touch of paprika.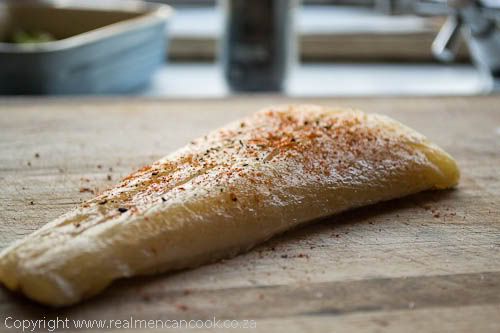 I was dreaming of a whole fillet of Haddock with some lovely grill lines on it. Turns out I am quite some way from being a master of the grill pan.  The fish is fairly delecate, so it broke apart when I tried to turn it.  In the end I actually like the flaked up way I served it.
I grilled the fish and asparagus in my fancy new Le Creuset grill pan, which I am loving so far, although I'll be the first to admit my technique needs some work!
Add the asparagus about halfway through cooking the fish, you don't want to overcook it.
To poach the egg, get a nice deep saucepan full of water going on the stove.  You want it to barely simmer, not a full rolling boil as your egg will break up.  Adding a good dash of vinegar will help congeal the egg whites and assist the egg in "setting".  Do not add salt to the water.
Make sure your egg is at room temperature and break it into a small bowl or ramekin first, so you can gently drop it into the water.
When the water is simmering gently, use a slotted spoon and create a whirlpool in the water.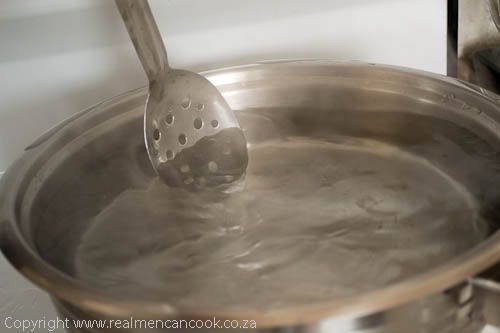 Lower the bowl with the egg to the water level and gently drop it in the middle of the whirlpool.  The movement of the water will help form the egg, don't fiddle with it much, you can try to gently lift it from the bottom of the pan with your spoon after a minute or two just to make sure it doesn't stick.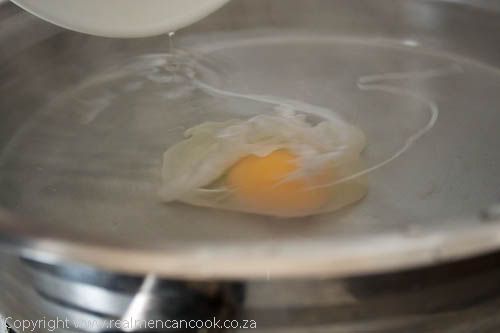 You will need to experiment with the timing a bit, but I like my eggs fairly runny so I generally take em out after 3 minutes.   You will get the hang of it soon enough.
Take it out of the water and let it rest on the slotted spoon so the water can drip off.  While it's "resting" take your kitchen scissors and trim off the ugly bits of egg white.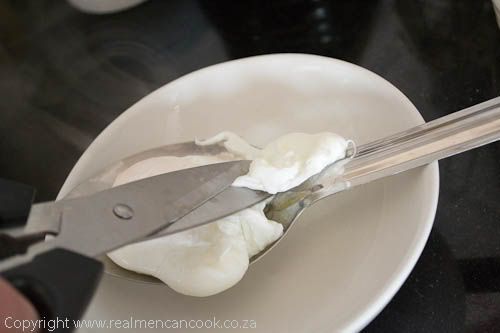 To serve, I piled together a little pea shoots and placed a slice of toast on top.  I then added some flaked Haddock, more pea shoots and the other slice of toast.  Pile on the rest of the flaked Haddock and make sure your little tower is stable.
Lay down the asparagus with the poached egg on top,  season with some salt and pepper and finish it off with some onion sprouts.
I'd imagine that a good hollandaise sauce will be awesome with this, but I was going for a low fat breakfast so decide to go without  :)
Bon Appetit!