Yes yes people I am still alive.  I must apologise, I have been neglecting the blog a little bit, I shall try to redeem and explain myself below!
Some of you may recall that I mentioned some time ago that I would be going on a weight-loss plan.  Well I did indeed start in early August and I am happy to report that as of my latest weigh-in on the 14th of December I have lost 21.2 kgs!  I am ecstatic about my progress thus far and will continue the journey in the new year.
Weight Watchers has been an amazing experience for me, it has taught me a lot about food, what to avoid and what to stuff your face with.  I can highly recommend the program to anyone serious about losing weight, it is totally doable and sustainable, which is very important in my book.  There is absolutely no point in losing truckloads of weight and then just piling it all back on.
So in the last few months I have been adjusting to my new eating habits, and I put the blog on the backburner ever so slightly.  Do not fear, I have grand plans for the new year. Keep your eyes peeled.
Right, enough yapping, show us the food! Lately I have developed quite the love affair with wraps.  They are quick and easy to prepare, quite filling and a great way to get some healthy greens into your system.  Initially I thought that they are rather bland and dry unless you slap some mayo in there, but that would kind of defeat the object of the exercise (healthy eating).  I pondered about this and hatched a plan!
I mixed up some sweet chillie sauce (which by itself isn't that bad a devil) with low fat plain yoghurt, added some garlic and black pepper and voila, I had an awesome creamy yet low cal sauce!  This stuff is amazing on pretty much anything you would normally want to chuck some mayo on.
Again, enough with the yapping, let's get to it!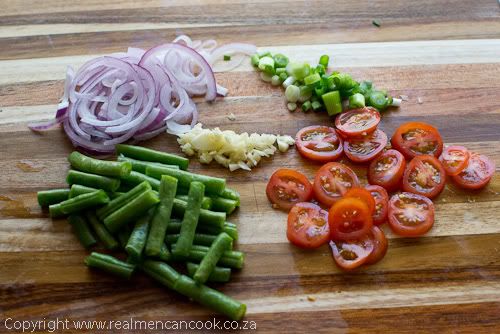 Ingredients:
For the wrap

1 chicken breast, sliced into strips
2 teaspoons NoMu Poultry Rub
1 teaspoon paprika
some salt
a few lettuce leaves (I used Cos Lettuce)
half a small red onion, thinly sliced
a handfull of green beans, chopped into 3-4cm pieces
1 clove or garlic, roughly chopped
4-5 baby tomatoes, sliced (I usually sprinkle some salt on the sliced tomatoes to draw the sweetness out)
3 or so sprigs of salad / sping onions, sliced
1 large tortilla wrap (I mainly use Anat's Low GI wraps)
For the sauce
1 cup low fat / fat free plain yoghurt
1/3rd of a cup sweet chillie sauce
1 teaspoon garlic flakes
a few good twists of the 'ol pepper mill
Method:
First off put the chicken strips in a bowl, add the Poultry Rub, paprika and a pinch of salt and mix it through.  Use your fingers, don't be shy.
Heat up a little olive oil in a pan (medium-high heat) and fry the beans and onions until the onions start to go soft.
Now add the chicken and fry that for a few minutes until the chicken is cooked.
While the chicken is cooking, we can make the sauce, its really quick and easy. Basically just chuck all the ingredients into a bowl and um stir the stuff.  Mix the yoghurt and the sweet chillie first.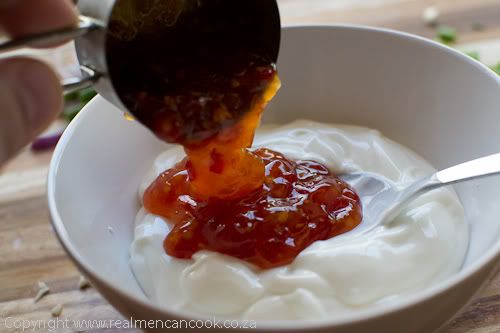 Then add the garlic and black pepper and stir it through once more.
Have a look at the pan, you will probably see the chicken starting to stick to the pan, do not fear, add a bit of water to the pan and move things around a bit with a spatula to "deglaze" the pan.
This is basically a fancy word for "lifting the awesome tasting caramelised bits from the bottom of the pan by adding a bit of liquid so we can use it's flavour in our dish"
Right, once you are done with that (yes ok stick a finger in the sauce and have a taste, good yes?) we can get on with assembling the wrap.  First off, cook the wrap as per the instructions on the pack.  Quickest is to put it on a plate in the microwave for 20 seconds, tada it's cooked.
Next is the assembly, now pay attention here, if you get this wrong you may end up with all the ingredients on your lap when you take the first bite.
Place the lettuce on the wrap, take note that I am leaving a bit of space open on the bottom edge of the wrap.
Next, add the chicken and bean mixture from the pan, still leaving an open edge at the bottom.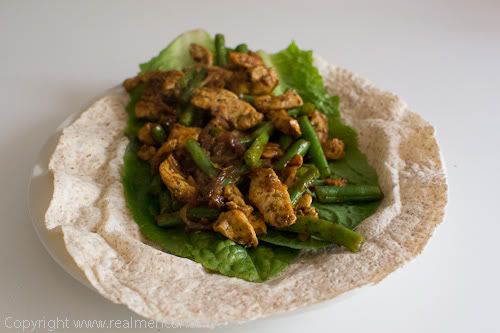 Next add the sweet chillie sauce, tomatoes and spring onions.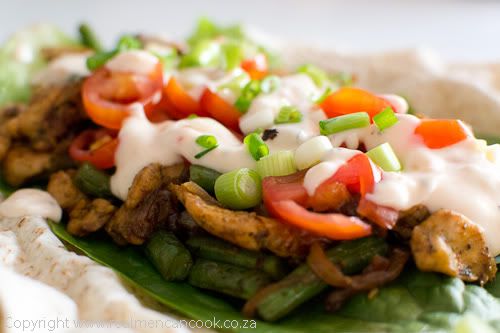 Right now for the important part, folding the wrap in such a way that it doesn't fall apart.  If the first one flops don't worry, you'll get the hang of it soon enough.
First fold the bottom edge over.
Then fold in the one side (you can pick which one first, woohoo) remember to hold the bottom edge down so you are folding "over" it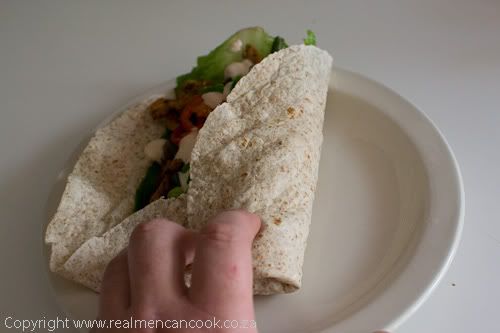 Lastly fold the remaining side over both the bottom and the other edge. (sheesh it looks rather tiny in this pic, but I do have humongous hands)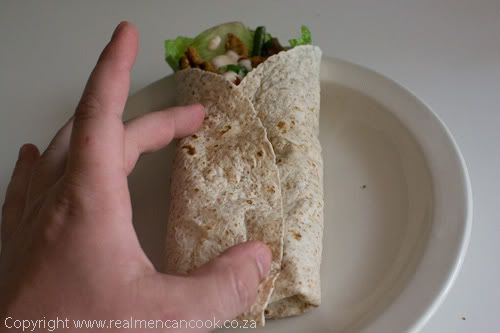 Then all that is left is to tuck in, it might get messy but ignore it and have fun!
I wish you all a happy festive season and travel safe if you are heading out into the woods :)