I've recently stumbled upon bulgur wheat in the supermarket.  Not having a clue what it was, and being cursed blessed with a inquisitive nature, I bought a pack there and then.
After doing some research on the net I found that it is labeled as a "super food" by some, particularly for people like me that's s trying to lose some weight (down 22kgs since August last year,  thanks for asking).  It is high in fiber, minerals and vitamins, and low in fat and calories.  Being a whole grain, it helps you feel fuller for longer.
That all sounded great to me, so I decided to give it a bash.  I've used it in a number of dishes so far and I must say I really like the stuff.  Quick and easy to prepare, versatile, really healthy and actually quite tasty.  I know have a couple of boxes of the stuff at home, and use it religiously.
When I received my fish delivery from Julie at Ocean Jewels Fish the other day, I knew I had to try my new friend Bulgur with an old friend Angelfish :)
It works great as an alternative to rice, is a lot healthier and actually easier to cook! Let's get to it.
Ingredients: (serves 2)
1 cup Bulgur Wheat
2 Angelfish Fillets
handful of flatleaf parsley
handful of fennel
dash of paprika
3 cloves garlic, chopped
sea salt
white pepper
1 red onion, roughly chopped
2 lemons
baby tomatoes
english spinach leaves
some olive oil
Method:
Set your oven to 180º C and boil a kettle of water.  Pat the Angelfish dry with some kitchen towel and place in a baking dish.  Season with sea salt, white pepper and paprika.  Break the fennel up with your hands and sprinkle over the fillets.  Squeeze the juice of half a lemon over each of the fillets. Drizzle some olive oil over and then use a brush to "paint" the fillets with the seasoning.
Place the fish in the oven for +- 20 minutes, this time will vary depending on the thickness of the fish.  Angelfish generally cooks fairly quickly.  When your kettle has boiled, chuck a cup of bulgur wheat into a bowl, add a pinch of salt, the zest of one lemon and top up with two cups of boiling water.  Stir it through and let it stand for 20 minutes.  The bulgur wheat will soak up all the water and triple in volume.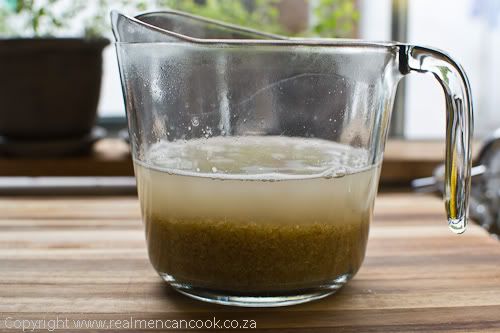 While you are waiting, fry the red onion and garlic until the onion is soft.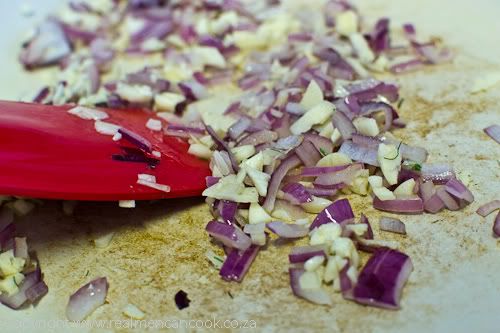 Deglaze the pan (add some water / wine to the hot pan to loosen the brown bits that sticks to the bottom of the pan, they be very tasty) and add the Bulgur.  It does not need further cooking, you just want to mix the flavours.
Stir in the chopped parsley.  Now its time to taste the Bulgur wheat and adjust seasoning as needed. You may want to add more lemon juice, zest, salt etc.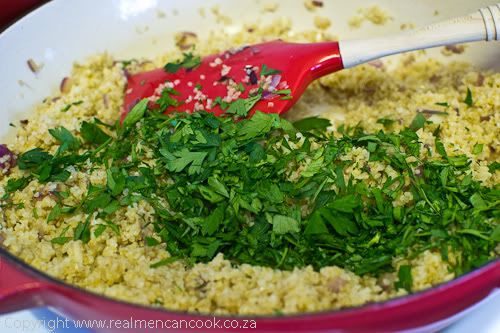 By this time your fish should be done, and will hopefully look something like this.  remove from the oven and let it stand for 2 minutes.
In the mean time, cut up the tomatoes and place with the English spinach leaves.  We shall call that "salad".  You may want to add dressings etc, I just went with the bare essentials here to cut down on the calories etc.  Here I am using a cooking ring to be fancy about plating the Bulgur wheat, but you are more than welcome to just plonk it on the plate with a spoon.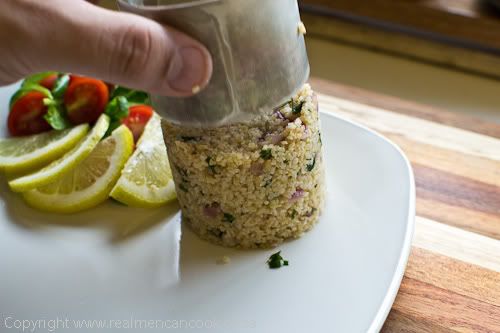 And there you have it! Delicious, quick, easy, nutritious, low-cal, low-gi, high fibre, and all that stuff. It's a super meal I tell you!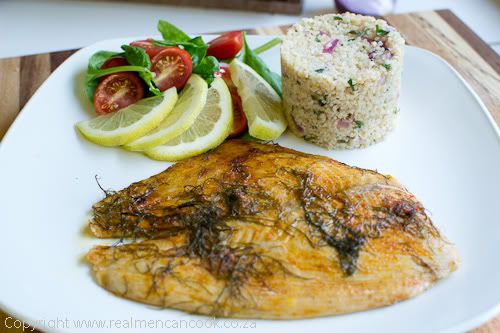 As always I appreciate any comments or feedback you may have, get in touch!
Cheers