I must admit when my friend Samantha Linsell from drizzleanddip.com asked me to help her try out something called a "Braai Plank" I was a tad sceptical.  I mean I grew up with LOADS of braaing and have perfected my own techniques / recipes over the years. Any braai technique / product I haven't heard of was surely some gimmick aimed at the clueless (over confident much?).  I'm never one to miss an opportunity to try something new though, so I went for it!
Sam brought some of her tools of the trade with to my place and we got the fire started.  My neighbours might have thought us a bit odd with two camera tripods and a table of props being set up.  At one point I even exclaimed "Let's do it in the bedroom!", but more on this later.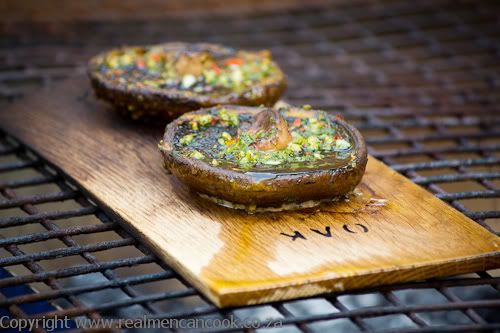 We decided to split the resulting blog posts in two, I'll do  the action shots and explain how it all works, while Sam will provide the recipes and the gorgeous images she managed to create.  Sam is one seriously talented woman, if you haven't yet checked out her blog yet (erm, time to crawl out from under that rock buddy) please go check out drizzleanddip.com.
Right so time to get braaing !
The basic idea behind the plank is to use it sort of like a smoker.  You soak the planks for a good few hours in water / wine / beer etc, and then you place it on your braai grid, with whatever you are cooking on top of it.  The heat will make the plank start to smolder and smoke, which adds some smokey flavour to your cooking.
The braai we used is a South African classic, the half drum legend, made by cutting open a huge oil drum lenghtwise.  To keep the smoke around the meet / veg I place my kettle braai lid over the planks.  A picture of the setup below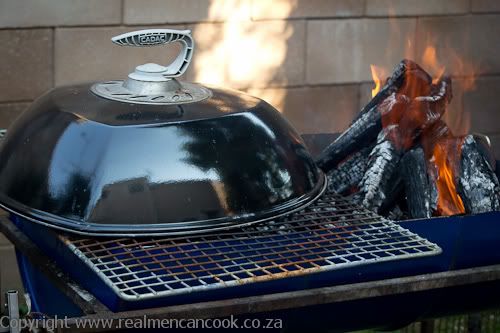 Okay so first off Sam has soaked the planks overnight.  You then need to temper them a bit to avoid excessive warping of the wood when you place it on the heat.  To do this you put the side that you want to cook the meat on face down onto the grid for 2 minutes.
This will make it curve a bit to that side.  You then flip it over, add your meat / veg and get smokin'. Here we used the Oak planks to smoke the Garlic, Pesto, Chilli Mushrooms as well as some Prosciutto wrapped Brie (what a winner).
Back on with the lid and let it go for +- 15 minutes.  The time will vary according to the intensity of the heat source, so you'll have to eyeball it untill you get the technique down.  We were advised to keep a little spray bottle filled with water on hand to douse any flames that might flare up if your coals are too hot.   Just a few spritzes was enough to keep them flames under control.
After a few minutes things started smelling pretty good, and soon we ended up with these gorgeous babies.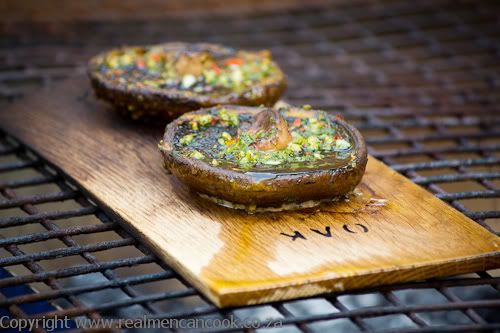 After I finished braaing these Sam grabbed them from my paws and ran upstairs with them to shoot the proper photos.  Aparrently there was some awesome light for photography streaming through my bedroom window, so that was why we ended up having to "Do it in the bedroom" (who knew).
We then made some Bruschetta on the grid and stuffed our faces with the Prosciutto wrapped Brie, this was seriously good.
Next we moved on to a sirloin steak and a pork fillet.  The pork was gorgeous as I could cover it with sauce from the start without the sauce burning due to direct heat.
For steak braaing I'm not 100% convinced, it was good (I cannot braai bad steak, its not in my DNA) but I still think my tried and tested flame grilled method reigns supreme, but give it a bash yourself and see :)
I believe the plank is probably better suited to more delicate things, like a small fillet, cheeses, veggies, a nice piece of fish or chicken breast etc.  Something that wouldn't enjoy very high direct heat and could do with something solid to rest on.
Sam and I had loads of fun and we ate like kings.  For the recipes and the most amazing images please head on over to her blog posts here.
You can get more info on the planks at the supplier, Geobasket